Why You Should Contact SERVPRO for a Safe Mold Remediation Process in Mattapan
5/20/2023 (Permalink)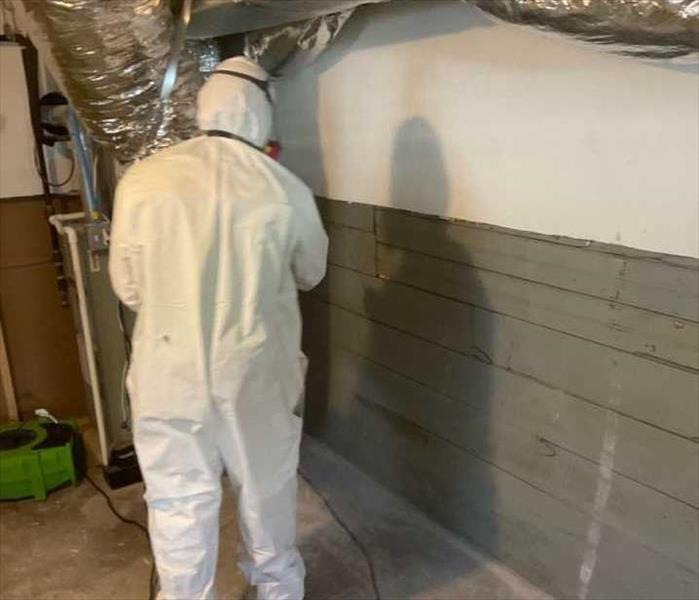 SERVPRO techs don PPE personal protective equipment during mold remediation and removal in Mattawan.
SERVPRO Offers Fast Mold Cleanup Services to Residents of Mattapan
Quick response to emergencies is why SERVPRO is highly regarded in mold damage remediation. It is common knowledge that disasters do not give a warning, and they need an immediate response when they happen. You can count on our technicians when you need urgent mold removal services, irrespective of the size of the contamination.
Since we use the right tools during mold cleanup in Mattapan, our projects are always a success. Immediately upon arriving, our SERVPRO technicians do a mold inspection to find out the areas already affected by the contamination. If the water's source is still running, we must stop it and extract any standing water.
Before the mold remediation process can start, containment measures must be implemented. Mold spores are light and can readily circulate to unaffected areas if disturbed. During containment, we can use plastic sheeting to set up physical barriers so that the spores and debris do not escape the site during remediation. We also seal off the ducts and vents of your HVAC system to prevent their spread to other areas within the building.
Our SERVPRO technicians use specialized tools such as reciprocating saws, sledgehammers, crowbars, utility knives, and chisels during mold-controlled demolition. The tools help us cut off replaceable sections of the affected flooring, drywall, insulation, and other materials. Using air scrubbers enables us to trap the mold spores dislodged from surfaces during demolition.
Light Mold Removal
When the infestation is minor, less than several square feet of surface, we can remove the colonies with the following:
Scraping
Portable hand-held vacuums with HEPA filters
Bicarbonate of soda blasting to abrade the surface
Our team uses appropriate Personal Protective Equipment (PPP). It is common to see us wearing protective suits, respirators, and gloves. We also ensure the contaminants collected during mold remediation are disposed of according to the EPA standards.
Contact SERVPRO of Hyde Park / Roslindale at (857) 399-9797 and schedule a professional mold damage remediation process. Our highly trained team uses the latest technology to make every affected site "Like it never even happened."